I caught up with Guru & Solar earlier this week. The veteran MC and New York producer are dropping their fourth project together entitled "Guru: 8.0 – Lost & Found".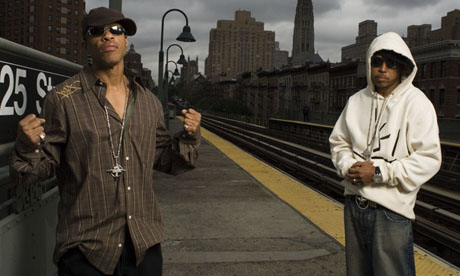 The album is the follow up to the fourth installment of the Jazzmatazz series 'Back To The Future', which featured the hit single 'State of Clarity' with Common.
Noone can deny Guru's pedigree as an emcee and tracks like 'Just To Get A Rep' and 'Ex-Girl To The Next Girl' demonstrate. The emcee's fusion with Jazz and other musical genres helped to solidify his place in Hip Hop history forever.
And now working with Solar, it seems both the producer and the artist want to create a movement of positive and real Hip Hop.
The Interview
I walked into the hotel room and Charlee (who arranged the interview), introduced me to Guru and Solar and when Guru heard the name 'The Hip Hop Chronicle UK', he replied 'I heard that name' and then told me that he had seen my site. I'm not going to lie, it bugged me out that someone like Guru had heard or seen my site.
Anyway, Guru and Solar had been doing interviews since early afternoon and by the time I came to interviewing them (which was around 8.15pm) I though they would be tired but they still gave me 100% and for that I got to show respect.
The interview turned out to be around 25 minutes and even after the interview I spoke to the duo further about UK Hip Hop, the album, Wu Tang and Gangstarr. It was great to see people like Guru and Solar showing me love and for digging the interview.
Guru & Solar Interview Part 1
In the first part of the interview, I speak to Guru & Solar about their album 'Lost & Found', what the album will bring to the table. They also give me their thoughts on the auto-tune craze and reveal that its used on the upcoming album and finally I speak to the duo about creativity in Hip Hop and whether its lacking.
Guru & Solar Interview Part 2
In part 2, I ask Solar what separates him from other producers not only in New York but in Hip Hop. They tell me what '7 Grand' represents and what we can look forward to from the label.
Guru & Solar Interview Part 3
In part 3, I speak to Guru about a recent interview with HipHopDX, in which Guru said 'I am Gangstarr, Gangstarr is me'.  
Before the interview I didnt have the intention of asking about Gangstarr because its the past for both Preemo and Guru and when I interview Preemo I wouldnt ask him about Gangstarr, so I only think its fair that I do the same with Guru. Having said that, I felt that the statement that was made in the HipHopDX interview needed clearing up.
Also in Part 3, Guru and Solar talk about the internet and blogs, they give advice for upcoming rappers and producers and Guru shouts out some UK artists (old and new school). Guru's knowledge on UK artists did surprise me. One UK artist that wasnt mentioned in the video but that Guru really likes, is Bashy. 
http://www.myspace.com/guru7grand
http://www.myspace.com/solar7grand
'Lost & Found' is set to drop in the UK on April 27th.
Follow Us On Twitter:
Follow @hiphopchronicle
About the author